Download casino in your language:
COLORADO
Your Best Search for Casino and Gaming Information!
Black Hawk | Black Hawk Station | Bull Durham Saloon & Casino | Bullwhackers Black Hawk Casino | Bullwhackers Silver Hawk | Canyon Casino | Colorado Central Station Casino | Eureka! Casino | Fitzgeralds Casino | Gilpin Hotel Casino | Golden Gates Casino | Isle of Capri Casino | Jazz Alley Casino | The Lodge Casino | Mardi Gras Casino | Red Dolly Casino | Richman Casino | Riviera Black Hawk | Wild Card Saloon & Casino | Central Palace Casino | Doc Holliday Casino | Dostal Alley Saloon | Famous Bonanza | Harvey's Wagon Wheel Hotel | Cripple Creek | Black Diamond/Silver Spur Casinos | Brass Ass Casino | Bronco Billy's Sports Bar & Casino | Colorado Grande Gaming Parlor | Creeker's Casino | Double Eagle Hotel & Casino | Gold Rush Hotel & Casino/Gold Digger's Casino | Imperial Casino Hotel | J.P. McGill's | Johnny Nolon's Casino | Midnight Rose Hotel & Casino | Palace Hotel & Casino | Uncle Sam's Casino | Virgin Mule | Wild West Casino | Womacks/Legends Hotel & Casino | Indian Casinos | Sky Ute Casino and Lodge | Ute Mountain Casino & RV Park |
Cripple Creek
Location: (47 miles west of Colorado Springs. Take exit 141 at Colorado Springs off I-25. Go west on Hwy. 24 to the town of Divide. Turn left onto Hwy. 67 and go 18 miles to Cripple Creek.) Cripple Creek has several hotel/casinos the largest of which is the Double Eagle Hotel & Casino. There is also a 67-room Holiday Inn Express, located 1/4-mile from the casinos, which offers rates of $49 (Winter) to $99 (Summer) per night. Free shuttle service is provided to and from the casinos. For reservations, call 1-800-HOLIDAY.
Many Cripple Creek casinos hand out coupons and fun books at their doors. Also check the ads in the Colorado Springs Gazette, the Pueblo Chieftain and the free tourist magazines. There are five casinos that sponsor their own shuttle service from Colorado Springs and Pueblo. It's called the Ramblin' Express and the round-trip fare is about $20 per person, however, you are also given a coupon book which contains a variety of offers that are valid at the five sponsoring casinos. Most Cripple Creek parking lots charge a fee of $3 to $5 which is usually reimbursed by the casino. Check at the lot for each particular casino's parking rules. For Cripple Creek tourism information call (877) 858-GOLD.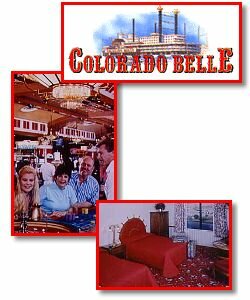 Black Diamond/Silver Spur Casinos 425 E. Bennett Avenue Cripple Creek, Co 80813 (719) 689-2898 Restaurants: 1 (snack bar) Casino Size: 3,300 Square Feet Other Games: Blackjack Fun Book: Coupons handed out at front door Special Features: Black Diamond and Silver Spur are adjacent casinos that are interconnected. Free drinks for players. $1 daily drink specials. 99˘ shrimp cocktail. Real gold vein in wall (upstairs). Live entertainment at Silver Spur Theater.


Get Map
Driving Directions


Brass Ass Casino 264 E. Bennett Avenue (719) 689-2104 Restaurants: 1 (snack bar) Special Features: Free hot dogs and popcorn. Associated with Midnight Rose and J.P McGill's.


Get Map
Driving Directions


Bronco Billy's Sports Bar & Casino 233 E. Bennett Avenue (719) 689-2142 Web Site:

www.broncobillyscasino.com Toll Free Number: (877) 989-2142 Restaurants: 2 Other Games: Blackjack, 3-Card Poker Casino Size: 21,000 Square Feet Fun Book: Ask at cashier's cage Special Features: Includes Buffalo Billy's casino with sports theater and weekend steakhouse. 122" video wall with over 60 satellite tv's tuned to sports. 49˘ breakfast from 8am to 11am. Full-service restaurant with $6.95 t-bone steak special from 2pm daily. Double jackpots at top two minutes of every hour and 12am-1:30am every night.
Get Map
Driving Directions


Colorado Grande Gaming Parlor 300 E. Bennett Avenue (719) 689-3517 Web Site:

www.anchorgaming.com Restaurants: 1 Senior Discount: Free lunch on Tuesday with AARP card and active slot club card Special Features: Cash back slot club
Get Map
Driving Directions


Creeker's Casino 272 E. Bennett Avenue (719) 689-3239 Web Site:

www.creekerscasino.com Restaurants: 1 Buffets: L/D-$6.95 (Sun)/$11.95 (Fri) $12.95 (Sat) Special Features: Cash back slot club. Associated with Double Eagle Hotel and Casino. Free pizza for players. Arcade.
Get Map
Driving Directions


Double Eagle Hotel & Casino 442 E. Bennett Avenue (719) 689-5000 Web Site:

www.decasino.com Toll-Free Reservations: (800) 711-7234 Rooms: 151 Price Range: $59-$119 Suites: 8 Price Range: $119-$160 Restaurants: 1 Buffets: B-$5.95 L-$8.95 D-$9.95/$13.95 (Fri) Other Games: Blackjack, Poker, Let It Ride Fun Book: Ask at the slot club Special Features: Valet parking. Free self-parking. Free live entertainment. Video arcade. Bus service from Colorado Springs, Pueblo and Denver.
Get Map
Driving Directions


Gold Rush Hotel & Casino/Gold Digger's Casino 209 E. Bennett Avenue (719) 689-2646 Toll-Free Number: (800) 235-8239 Rooms: 14 Price Range: $49-$79 Restaurants: 2 Other Games: Blackjack, Let It Ride, Poker Senior Discount: Various, if 50, or older Special Features: Gold Digger's and Gold Rush are adjacent properties interconnected to form one casino. All rooms have TV, telephone and private bath. Golden Grille restaurant. Video arcade located next to casino. $2.99 New York steak special. 10% room discount to seniors and AAA members.


Get Map
Driving Directions


Imperial Casino Hotel 123 N. Third Street (719) 689-2922 Toll-Free Number: (800) 235-2922 Rooms: 29 Price Range: $45-$85 Suites: 2 Price Range: $100-$145 Restaurants: 2 Other Games: Poker Fun Book: Coupons handed out at door Special Features: 9 rooms available with private bath. Live entertainment.


Get Map
Driving Directions


J.P. McGill's 232 E. Bennett Avenue (719) 689-2497 Restaurants: 1 Special Features : Associated with Midnight Rose Hotel and Casino.


Get Map
Driving Directions


Johnny Nolon's Casino 301 E. Bennett Avenue (719) 689-2080 Restaurants: 2 Special Features: Full-service restaurant with nightly specials and Subway sandwich shop.


Get Map
Driving Directions


Midnight Rose Hotel & Casino 256 E. Bennett Avenue (719) 689-2865 Web Site:

www.midnightrose.com Toll-Free Number: (800) 635-5825 Rooms: 19 Price Range: $39-$89 Restaurants: 2 Buffet: L-$5.99 D-$6.99/$7.99 (Fri-Sun) Other Games: Blackjack, Poker, Let It Ride Fun Book: Ask at cashier's cage Special Features: All rooms have TV, phone and private bath. Wendy's, Pizza Hut, Baskin Robbins and video arcade downstairs. Full-service restaurant (with daily specials) upstairs. Ramblin' Express shuttle service from Colorado Springs, Pueblo, Canon City and Castle Rock.
Get Map
Driving Directions


Palace Hotel & Casino 172 E. Bennett Avenue (719) 689-2993 Rooms: 16 Price Range: $19-$69 Restaurants: 1 Special Features: 3 rooms available with private bath


Get Map
Driving Directions


Uncle Sam's Casino 251 E. Bennett Avenue (719) 689-2222 Special Features: Free soup and sandwich given to players.


Get Map
Driving Directions



Virgin Mule 259 E. Bennett Avenue (719) 689-2734 Restaurants: 1 snack bar


Get Map
Driving Directions



Wild West Casino 443 E. Bennett Avenue (719) 689-4180 Restaurants: 1 Special Features: Mexican restaurant.


Get Map
Driving Directions



Womacks/Legends Hotel & Casino 200-220 E. Bennett Avenue (719) 689-0333 Web Site:

www.womacks.com Toll-Free Number: (888) 966-2257 Rooms: 8 Price Range: $39-$79 Restaurants: 1 Other Games: Blackjack, Let It Ride, Poker Special Features: All rooms with private bath and satellite tv (no telephone). Womacks and Legends are adjacent properties interconnected to form one casino. Cash back slot club. Free parking. Free drinks.
Get Map
Driving Directions
Indian Casinos

Sky Ute Casino and Lodge 14826 Highway 172 N./P.O. Box 340 Ignacio, Colorado 81137 (970) 563-3000 Web Site:

www.skyutecasino.com Location:(345 miles S.W. of Denver, 20 miles S.E. of Durango) Toll-Free Number: (800) 876-7017 Rooms: 36 Price Range: $45-$69 Restaurants: 1 Liquor: Yes Buffets: B-$4.99 (Sat-Sun) L-$6.99 D-$8.99/$12.99 (Fri-Sat) Hours: 24 Hours Daily Other Games: Blackjack, Poker, Bingo (Wed/Thu/Sun) Senior Discount: 10% room and restaurant discount, if 65, or older Special Features: Liquor is not served in casino, only in the restaurant. Southern Ute Cultural Center and Museum is located next to casino
Get Map
Driving Directions


Ute Mountain Casino & RV Park 3 Weeminuche Drive/P.O. Drawer V Towaoc, Colorado 81334 (970) 565-8800 Web Site:

www.utemountaincasino.com Location: (425 miles S.W. of Denver, 11 miles S. of Cortez on Hwys. 160/166) Toll-Free Number: (800) 258-8007 Restaurants: 1 Liquor: No Buffets: B-$4.50 (Sat-Sun) L-$5.95 D-$7.75/$10.95 (Fri) Casino Size: 32,000 Square Feet Hours: 8am-4am Daily Other Games: Blackjack, Poker, Let It Ride, Keno, Bingo (Fri-Tue) Fun Book: Given at local motels/RV parks Senior Discount: 15% restaurant discount, if 55, or older. Special Features: 84-space RV Park. Ute Tribal Park tours available.
Get Map
Driving Directions

---
USA CASINOS REVIEW
| Arizona | California | Colorado | Connecticut | Delaware | Florida | Georgia |
Idaho | Illinois | Indiana | Iowa | Kansas | Louisiana | Massachusetts | Michigan |
Minnesota | Mississippi | Missouri | Montana | Nevada | New Jersey | New Mexico |
New York | North Carolina | North Dakota | Oregon | Rhode Island | South Carolina |
South Dakota | Texas | Washington | West Virginia | Wisconsin |
MOST POPULAR CASINOS - LAS VEGAS CASINOS
---
| | |
| --- | --- |
| | GAMBLING: RULES, STRATEGY, SYSTEMS, CASINOS  |
| | |
| --- | --- |
| | SUPER POKER RULES  |
| | |
| --- | --- |
| | LINKS TO OTHER GAMBLING SITES  |
---
Are You Ready To Play at Super Online Casino.com Now?
Click Below To Start Game

Or Choose The Other Game You Wish To Play

TABLE GAMES | SLOTS | VIDEO POKER | SPECIALITY GAMES | PROGRESSIVES