Download casino in your language:
5 Cards Stud Poker
| | |
| --- | --- |
| | SUPER POKER RULES  |
5 Card Stud Poker is very similar to 7 Card Stud Poker, but of course each player is dealt only 5 cards. This is probably the oldest variant of Poker known from many movies. Each player ends the game with one card face down, and four cards face up. Each player has to bet Ante before cards have been dealt. The amount of Ante is determined by the table rules, usually a certain percentage of the low limit.

Dealing
In 5 Card Stud Poker each player is dealt a hole card and an up card).  Player with the lowest value up card starts betting. The round is pretty much similar to 7 Card Stud, one bet and three raises for a total of four.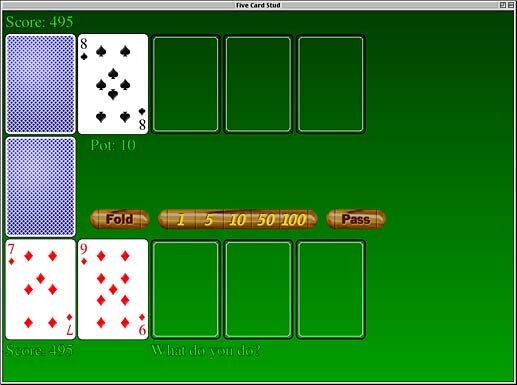 Third street
When each player posts an equal amount of bet, another card is dealt to all players in the game. The player with 2 highest cards starts the betting round by posting the low limit bet. If the strongest hand is a pair, it starts the betting round with the high limit bet. The betting round continues and each player has an option to fold, call, raise, or check (if no bet has been made).

Fourth street
The same as the third street but the bet limits are higher.

Fifth street
All players have 5 cards, one of which is down. The final betting round starts, after which a showdown will follow. The best hand wins the pot. 2
---
| | |
| --- | --- |
| | GAMBLING: RULES, STRATEGY, SYSTEMS, CASINOS  |
| | |
| --- | --- |
| | LINKS TO OTHER GAMBLING SITES  |
---
Are You Ready To Play at Super Online Casino.com Now?
Click Below To Start Game

Or Choose The Other Game You Wish To Play

TABLE GAMES | SLOTS | VIDEO POKER | SPECIALITY GAMES | PROGRESSIVES