Download casino in your language:
COLORADO
Your Best Search for Casino and Gaming Information!
Black Hawk | Black Hawk Station | Bull Durham Saloon & Casino | Bullwhackers Black Hawk Casino | Bullwhackers Silver Hawk | Canyon Casino | Colorado Central Station Casino | Eureka! Casino | Fitzgeralds Casino | Gilpin Hotel Casino | Golden Gates Casino | Isle of Capri Casino | Jazz Alley Casino | The Lodge Casino | Mardi Gras Casino | Red Dolly Casino | Richman Casino | Riviera Black Hawk | Wild Card Saloon & Casino | Central Palace Casino | Doc Holliday Casino | Dostal Alley Saloon | Famous Bonanza | Harvey's Wagon Wheel Hotel | Cripple Creek | Black Diamond/Silver Spur Casinos | Brass Ass Casino | Bronco Billy's Sports Bar & Casino | Colorado Grande Gaming Parlor | Creeker's Casino | Double Eagle Hotel & Casino | Gold Rush Hotel & Casino/Gold Digger's Casino | Imperial Casino Hotel | J.P. McGill's | Johnny Nolon's Casino | Midnight Rose Hotel & Casino | Palace Hotel & Casino | Uncle Sam's Casino | Virgin Mule | Wild West Casino | Womacks/Legends Hotel & Casino | Indian Casinos | Sky Ute Casino and Lodge | Ute Mountain Casino & RV Park |
Colorado offers "limited gaming" in the mountain towns of Black Hawk, Central City and Cripple Creek. There are also two Indian casinos (which abide by Colorado's limited gaming rules) in Ignacio and Towaoc. Gambling is limited in two aspects: one, only electronic games (including slots, video poker, video blackjack and video keno) and the table games of poker, blackjack, let it ride and 3-card poker are allowed. Two, a single wager cannot exceed $5. The rules for poker are such that a raise is considered a separate bet. Three raises per round are allowed. On the last round, two players may go "head-to-head" with an unlimited number of raises. Nine varieties of poker are approved for casino play. Texas Hold 'Em, 7-Card Stud and Omaha are the most popular choices.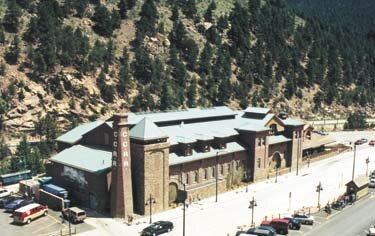 Blackjack wagers are limited to a $5 maximum, with most casinos allowing a $2 or $3 minimum bet. However, doubles and splits are considered separate bets. Colorado casinos employ Vegas Strip rules and most allow doubling after splits. Since pairs may be split three times (to make up to four hands) it is theoretically possible to bet $40 on what began as a single $5 wager.
Multiple action blackjack is also available in Colorado. Multiple action allows a player to place up to three bets (of up to $5 each) on a single blackjack hand. This hand is then played for three rounds against the same dealer up-card. Several Colorado casinos offer multiple action blackjack. Here's information, as supplied by Colorado's Division of Gaming, showing the slot machine payback percentages for each city's casinos for the one year period from July 1, 1999 through June 30, 2000:
Black Hawk Central City Cripple Creek 5˘ Slots 93.33% 92.60% 93.64% 25˘ Slots 94.29% 94.02% 94.36% $1 Slots 95.23% 95.02% 95.33% $5 Slots 96.14% 94.58% 94.98% All 94.55% 94.01% 94.54%
These numbers reflect the percentage of money returned on each denomination of machine and encompass all electronic machines including video poker and video keno. The best returns for each category are highlighted in bold print and you can see that Black Hawk offered the best returns on $5 machines, while Cripple Creek offered the best returns in all other denominations. Colorado gaming regulations do not allow the casinos to be open 24 hours. The maximum hours they can be open are from 8am until 2am. The two major free gaming oriented magazines are The Gambler and the Rocky Mountain News Gaming Guide. Both are free, and available in most casinos in Colorado. Look in them for ads for casino coupons or fun books. The Denver Post Weekend section (published every Friday) also contains coupons and fun book offers for the casinos in Black Hawk and Central City. For more information on visiting Black Hawk call (303) 582-5221, for Central City information call (800) 542-2999 and for Cripple Creek information call (877) 858-GOLD. For general information on Colorado call the state's tourism board at (800) 433-2656.
Black Hawk
Location: (35 miles west of Denver. Take U.S. 6 through Golden to Hwy 119. Take Hwy 119 to Black Hawk. Another route is I-70 West to exit 244. Turn right onto Hwy. 6. Take Hwy 6 to 119 and into Black Hawk.) The Lodge at Black Hawk and the Isle of Capri are the only two casinos with hotel rooms in that city. The next closest lodging is at Harvey's Wagon Wheel Casino, 3/4-mile up Gregory St. in Central City (see Central City listings for particulars). Another alternative is the Gold Dust Lodge, located on Hwy. 119 about 1.5 miles from Black Hawk casinos. The Gold Dust features 23 remodeled rooms with private baths, TV and telephones
The casinos in Black Hawk and Central City are located one mile apart. The Black Hawk Shuttle Service provides free transportation around Black Hawk and Harvey's runs a free shuttle service from Black Hawk to Central City. There are a few bus tour programs such as Ace Express, People's Choice and Casino Transportation, Inc. (CTI) operating between the metropolitan Denver area and Black Hawk/Central City. These programs are bargain priced ($10, or less) and usually affiliated with one or two casinos that will reimburse a portion of the tour charge and also provide coupons or fun books. Check the "Weekend" section of the Friday Denver Post and Rocky Mountain News for bus tour ads and for casino ads that feature coupons
Most Black Hawk casinos offer free parking but some have "captive" parking lots where parking is free, but the parking ticket must be validated hourly. Failure to validate, or leaving the casino, will generate a parking fee of as high as $3 per hour. Black Hawk also has a large public lot called Miner's Mesa that offers free parking and a free shuttle into town.
---



USA CASINOS REVIEW
|

Arizona | California | Colorado | Connecticut | Delaware | Florida | Georgia |
Idaho | Illinois | Indiana | Iowa | Kansas | Louisiana | Massachusetts | Michigan |
Minnesota | Mississippi | Missouri | Montana | Nevada | New Jersey | New Mexico |
New York | North Carolina | North Dakota | Oregon | Rhode Island | South Carolina |
South Dakota | Texas | Washington | West Virginia | Wisconsin |