Download casino in your language:
FLORIDA
Your Best Search for Casino and Gaming Information!
| SunCruz Casino - Crystal River | SunCruz Casino - Daytona | Stardancer - Fernandina Beach | New SeaEscape | SunCruz Casino - Hollywood | Big M Casino | Midnight Gambler | La Cruise Casino | SunCruz Casino - Key Largo | Casino Princesa | Royal Star Casino Cruise | Stardancer Casino | Contessa Cruise & Casino | Palm Beach Princess | SunCruz Casino - Port Canaveral | Sterling Casino Lines | SunCruz Casino - Port Richey | SunCruz Casino - John's Pass | SunCruz Casino - Clearwater | Stardancer - Madeira Beach | Indian Casinos | Coconut Creek Seminole Bingo and Casino | Hollywood Seminole Gaming | Miccosukee Indian Gaming | Seminole Indian Casino | Seminole Indian Casino |
Florida does not have legalized casino gambling. It does, however, have a thriving day-cruise industry which offers gamblers the opportunity to board ships that cruise offshore where casino gambling is legal. From the east coast the boats sail three miles out into the Atlantic Ocean and from the west coast the boats travel nine miles out into the Gulf of Mexico. There are a variety of boats in operation ranging from Port Canaveral's 1,800-passenger Ambassador II cruise ship all the way down to the yacht-sized SunCruz Casino boat in Key Largo which carries 150 passengers.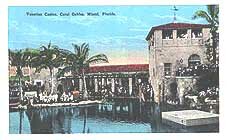 Generally, you will find that the larger ships have more of a variety of things to do besides the gambling, but the cost will be a little higher because of added port/service charges. Most of the ships that sail from the major ports, such as Port Everglades and the Port of Miami, will add port/service charges to the quoted cruise price. Usually, there is also a charge to park your car at those locations. Since late 1994 many smaller ships have begun operations and because they don't dock at the large ports they usually don't have port/service charges added to their cruise prices. Also, most of them offer free parking. You will find that almost all of the ships (especially in the Miami/Ft. Lauderdale area) are constantly running price specials so don't be surprised if you call and are quoted a price lower than the regular brochure rates listed here.

All ships offer: slots, video poker, blackjack, craps, roulette and Caribbean stud poker. Some casinos also offer: baccarat (B), mini-baccarat (MB), sports book (SB), poker (P), pai gow poker (PGP), let it ride (LIR) and bingo (BG). Each boat sets its own minimum gambling age: on some boats it's 21 and on others it's 18. The minimum drinking age on all boats is 21. The nearest Caribbean casinos are in the Bahamas with one on Grand Bahama Island: The Casino at Bahamia (800) 223-1818. The Casino at Bahamia operates a 727 jet charter service which has two flights daily from the Fort Lauderdale airport. One flight leaves at 9am and returns at 5:15pm. The other flight leaves at 6:30pm and returns at 12:45am. Grand Bahama Island is 90 miles from Fort Lauderdale and the flight takes 20 minutes. The cost is $79 (plus taxes of $43) which includes round-trip taxi transportation between the airport and the casino. Look in the coupon section in the back of this book for a special free trip offer to the Casino at Bahamia.

The other two casinos are in the Bahamian capital of Nassau which is on New Providence Island: Nassau Marriott Resort & Crystal Palace Casino (800) 222-7466 and Atlantis, Paradise Island (800) 321-3000. Technically, Atlantis is on Paradise Island and not in Nassau because you have to cross a bridge in downtown Nassau to get to the property. There is daily scheduled jet service on several airlines to the Nassau airport from both Miami and Fort Lauderdale. Nassau is 150 miles from Miami and the flying time is approximately 45 minutes. For Florida visitor information call (904) 488-5607. For information on the Florida Keys or Key West call (800) 352-5397.

Crystal River

SunCruz Casino - Crystal River (727) 848-3423 Web Site:

www.suncruzcasino.com Reservation Number: (800) 474-DICE Gambling Age: 18 Ship's Registry: U.S.A. Food Service: A la Carte Menu Schedule: 11:00am - 6:00pm (Mon-Wed) 9:00am - 4:00pm (Thu-Sun) 5:00pm - 12:00am (Thu-Sun) Price: $5 Port Charges: Included Parking: Free Casino Size: 3,000 Square Feet Other Games: LIR Special Features: 150-passenger SunCruz IV departs from the Barge Canal off U.S. 19 in Inglis, 8 miles north of Crystal River. Must be 18, or older, to board.
---
USA CASINOS REVIEW
| Arizona | California | Colorado | Connecticut | Delaware | Florida | Georgia |
Idaho | Illinois | Indiana | Iowa | Kansas | Louisiana | Massachusetts | Michigan |
Minnesota | Mississippi | Missouri | Montana | Nevada | New Jersey | New Mexico |
New York | North Carolina | North Dakota | Oregon | Rhode Island | South Carolina |
South Dakota | Texas | Washington | West Virginia | Wisconsin |
MOST POPULAR CASINOS - LAS VEGAS CASINOS
---
| | |
| --- | --- |
| | GAMBLING: RULES, STRATEGY, SYSTEMS, CASINOS? |
| | |
| --- | --- |
| | SUPER POKER RULES? |
| | |
| --- | --- |
| | LINKS TO OTHER GAMBLING SITES? |
---
Are You Ready To Play at Super Online Casino.com Now?
Click Below To Start Game

Or Choose The Other Game You Wish To Play

TABLE GAMES | SLOTS | VIDEO POKER | SPECIALITY GAMES | PROGRESSIVES